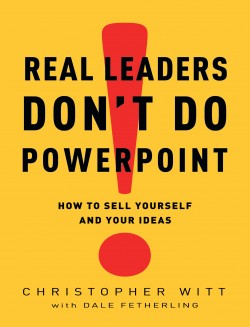 REAL LEADERS DON'T DO POWERPOINT: How to Sell Yourself and Your Ideas (Crown Business)
At the end of his first public speech almost forty years ago, Chris Witt's audience roared with laughter. Which would have been a good thing, if he had intended to be humorous. Sadly, he was being quite serious. He concluded his speech – "Thank you for listening"—and fled the podium, vowing never to speak again.
In the following years, forced to give speeches and presentations against his will, he developed his own style and a unique approach to public speaking. He is now a successful professional speaker, executive speech coach, and author of REAL LEADERS DON'T DO POWERPOINT.
As the president of a small consulting firm based in San Diego, Chris Witt works with business leaders — CEOs, presidents, executives, owners, and senior managers — who want to speak in a way that advances their organization's success. He also works with high-level technical professionals — senior scientists, engineers, and programmers — who want to present sophisticated material in a way that non-technical audiences can understand and use.
Visit Chris Witt at wittcom.com and lifeafterpowerpoint.com.