"It's time to put everything else on hold – the new Radar Hoverlander novel has arrived."
– Stephen Jay Schwartz, Los Angeles Times bestselling author of Boulevard and Beat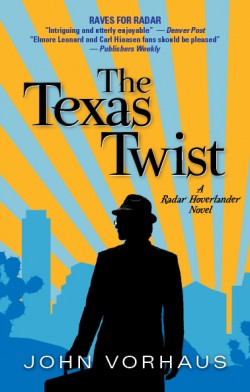 John Vorhaus lives vicariously through the exploits of his con artist avatar, Radar Hoverlander, protagonist of the "sunshine noir" mystery novels THE CALIFORNIA ROLL (Crown), THE ALBUQUERQUE TURKEY (Crown), and now THE TEXAS TWIST (Prospect Park Books). John swears up and down that his own hands are entirely clean of scams, but as a man of his words, he's hardly to be trusted.
Vorhaus is also well known as the author of The Comic Toolbox: How to be Funny Even if You're Not. This seminal book on writing comedy for television and film has informed and enlightened comic writers worldwide, and is now available in five languages, including Russian and Romanian bootlegs.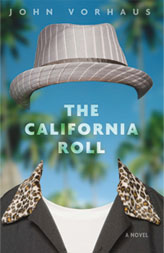 An international consultant in television and film script development, Vorhaus has worked for television networks, film schools, production companies and film funding bodies in 24 countries on four continents. His overseas tours of duty include the Russian version of Married… with Children, original situation comedies in Germany and Switzerland, and social action dramas in Nicaragua.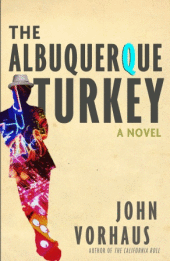 Vorhaus is a graduate of Carnegie-Mellon University and a member of the Writers Guild of America. He has consulted to Walt Disney Feature Animation and taught at such institutions as Northwestern University, the American Film Institute and the Writers Program of the UCLA Extension. He is the author of a dozen books, including Creativity Rules! the novel Under the Gun, and the how-to Killer Poker series. He blogs the world from his website, johnvorhaus.com.
PRAISE FOR THE CALIFORNIA ROLL
"I loved this comic caper with its twisty pretzel plot, clever invented language, and an attitude that's Carl Hiaasen channeling Dane Cook."
—Milwaukee Journal Sentinel
"[G]rand entertainment…Double and triple crosses abound in the careening plot…The writing is tight and wonderfully glib, and Vorhaus slyly, shrewdly hints that he's snuking the reader. No caper-novel fan should miss this one."
—Booklist
"Amusing thriller about the misadventures of a con man."
—Publishers Weekly
"Whether you're a mook or a snuke, The California Roll is more than entertainment, it's an education. Buyer beware: John Vorhaus will steal your money and hours of your life, giving you nothing in return but a great read—fast, funny and very, very smart."–Harley Jane Kozak, Agatha, Anthony, and Macavity award-winning author of A Date You Can't Refuse

"John Vorhaus sure knows his stuff—a little too well, if you ask me. The California Roll is a hilarious and highly suspicious ride into the world of grift. It's an immensely enjoyable read and an excellent primer if you're looking for a career change."–Lisa Lutz, New York Times bestselling author of Revenge of the Spellmans

PRAISE FOR THE ALBUQUERQUE TURKEY
"Pleasantly preposterous…What Radar (and Vorhaus) understand is that every emotional attachment can be exploited for the sake of a scam…A lighthearted caper with…psychological insight." —Kirkus Reviews

"Clever and glib and fine entertainment." —Booklist
"An intriguing and utterly enjoyable novel…the story is inherently cinematic and one can almost see the film version unspool."–Denver Post