IF I BRING YOU ROSES (Grand Central)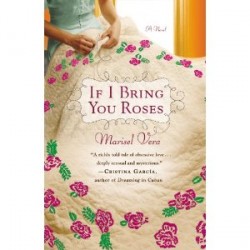 Set in Puerto Rico in the 40s and Chicago in the 50s, this gorgeous debut novel follows the fortunes of Felicidad Hidalgo and Aníbal Acevedo as they wrestle with the marriage they've rushed into.
Felicidad works behind the counter in her aunt's island bakery, serving the town's busybodies, and dreams of the family she hasn't seen in nearly a decade, especially of the mother who took to the roof of their home in the mountains in a frenzy of grief and madness.  The day Aníbal enters the bakery in search of a wife is the day Felicidad dares to imagine a different life.  Soon the two are married and Felicidad is keeping house in Aníbal's Chicago apartment, lavishing care on her husband.  But Felicidad's virtue begins to sap Aníbal's strength, and chafing at the restraints of marriage and the humiliations of his job in a factory, he takes up with a woman who is everything Felicidad is not:  independent, reckless, promiscuous, demanding.  Felicidad decides that the moment has come to be reborn in America.  How she finds her voice—and Aníbal learns to hear her—is at the heart of this luminous novel.
Marisel Vera grew up in the barrio in Chicago's Humboldt Park neighborhood, where she was raised by Puerto Rican emigrant parents.  One of six children, she was the first in her family to earn a college degree: a BA in Journalism from Northern Illinois University.  She has worked in public relations and advertising.
Vera studied writing with Paulette Roeske, Margaret Gibson, Jonis Agee, Rosellen Brown, and Cristina Garcia.  In 2000 and 2001 she won Willow Review's fiction prize for two of her short stories.  She lives in suburban Chicago with her husband and two children.
Praise for IF I BRING YOU ROSES
"A stunning novel of love and longing.  This is amazing debut by a gifted author."  — Lorraine M. López, author of The Realm of Hungry Spirits
"A deeply felt and satisfying tale that brings attention to the courage required to sustain hope, love, and passion as a stranger in a new land."  —Jonis Agee, author of The River Wife
"Everything you want in a novel—flawed, complicated characters, lush descriptions, breathtaking plot, and a fierce beating heart." —Tayari Jones, author of Silver Sparrow
"Rich with fascinating detail and engaging characters."– Rosellen Brown, author of Before and After: A Novel