COMPROMISE CAKE: Lessons Learned from My Mother's Recipe Box (Counterpoint) and ENTERTAINING DISASTERS:  A Novel (with Recipes) (Counterpoint)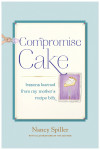 When Nancy Spiller discovered her late mother's teaching credentials buried in the midst of a long abandoned recipe box, she felt compelled to investigate the lingering mysteries of this troubled woman.  COMPROMISE CAKE explores Spiller's life in the suburbs of Northern California in the 1960s, learning to cook by her challenging mother's side, as remembered through the recipe box's mid-century and heirloom offerings.  It touches on lineage and industrial changes; it is a meditation on men, women, marriage, community, and the nature of compromise.
Praise for COMPROMISE CAKE
"Nancy Spiller dips into her mother's recipe box for a captivating confection of a memoir and out comes the history of sugar, family history, California history and anecdotes both humorous and of the heart. Illustrating the chapters are cozy watercolors in sugary pastels that, taken together with the delightful text, make Compromise Cake a great read and a perfect gift for the holidays. If you want to serve up a treat for your loved ones or just for yourself, this book is it."  —Susan Sherman, author of The Little Russian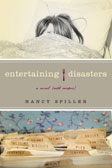 Praise for ENTERTAINING DISASTERS
Reader's Prize Pick, 2009, Elle Magazine
A recommended read in Ladies Home Journal, OK and Coastal Living

"[Entertaining Disasters] offers sharp, startling observations in a unique and very human voice." —Elle
"It will make you appreciate your own fallen soufflés all that much more." —Redbook.
"With deftness and wit, Nancy Spiller delivers needle-sharp insights…while portraying the dissolution of a family and the rise of longing for a culinary salvation." —Janet Fitch, author, White Oleander and Painted Black.
"Her borderline stream-of-consciousness, tangential terror splits into fascinating diversions about food and food history, and ultimately, about herself. Her past gradually emerges, pulled from silence by a smell, a taste, a touch or a memory of a particular ingredient. Now, at midlife, she is ready to examine the list of her own ingredients: who she is and what she wants." —Book Page
Nancy Spiller is a writer and artist living on the wild western edge of Los Angeles with her husband and their dog. A third generation California native, she grew up in the San Francisco Bay area and received her B.A. in English from San Francisco State University. She was a staff feature writer at the San Jose Mercury News and its Sunday magazine, West, before she moved to Los Angeles and worked as a staff feature writer at the Los Angeles Herald Examiner and as editor of the Los Angeles Times Syndicate's Entertainment News Service. Her essays and articles have appeared in such publications as the Los Angeles Times Sunday magazine, Mother Jones, Town & Country, USA Weekend, McCall's, Cooking Light and Salon.com. Her short fiction has been published in the Rain City Review and her illustrated texts have graced the pages of Arroyo.