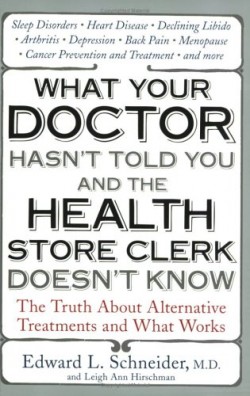 Edward Schneider, M.D. is Dean Emeritus of the Leonard Davis School of Gerontology at the University of Southern California, the nation's only School of Gerontology.  Before joining USC in 1986, Dr. Schneider was the Deputy Director of the National Institute on Aging and the Chief of the Laboratory of Molecular Genetics, Gerontology Research Center, National Institute on Aging.  He is currently Professor of Gerontology, Medicine and Biological Sciences at the University of Southern California and a Voluntary Attending Physician at the USC-Los Angeles County Hospital.
A respected leader in the field of gerontology for more than three decades, he has published more than 189 research articles and written or edited 14 books, including WHAT YOUR DOCTOR HASN'T TOLD YOU AND THE HEALTH STORE CLERK DOESN'T KNOW: The Truth about Alternative Treatments and What Works (co-authored with Leigh Ann Hirschman; Avery) and AGELESS: Take Control of Your Age and Stay Youthful for Life (co-authored with Elizabeth Miles; Rodale).
Dr. Schneider is a sought-after lecturer and has been interviewed by numerous media outlets, appearing on Larry King Live, Good Morning America, CNN, CBS, NBC and BBC, and in print stories in Forbes, Newsweek, The New York Times, and The Wall Street Journal.