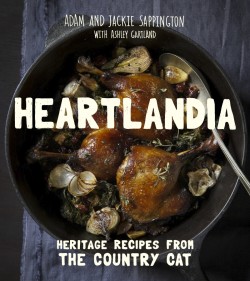 HEARTLANDIA: Heritage Recipes from The Country Cat (Houghton Mifflin Harcourt)
Noted food writer Josh Ozersky has hailed Adam Sappington, chef/owner of The Country Cat Dinner House in Portland, as "a true master of American vernacular cooking" and the "pre-eminent butcher-chef in America."  Bon Appetit has praised his food for its "neo-retro" feel and Gourmet for his ability to "do the impossible–make light of old-time American farm food."  USA Today considers Adam's heritage burger one of the nation's best, and The Cooking Channel's Unique Eats went bonkers for his fish & shellfish pot pie and his bacon, apple & oyster ragout in a segment filmed in the restaurant.  Guy Fieri recently dropped by for his Food Network show, Diners, Drive-Ins and Dives. Men's Health, Sunset, Martha Stewart Radio, and Tasting Table have all showered love on the restaurant's recipes.
In HEARTLANDIA: Heritage Recipes from the Country Cat, Adam and his pastry-chef wife Jackie (along with accomplished cookbook writer Ashley Gartland) introduce home cooks to their take on heartland cooking and the long-forgotten craft-driven methods they practice at The Country Cat.  They've brought together recipes that home cooks will consider the definitive dish in its category (as in "this is the best damn shortcake…fried chicken…hash I've ever had"), updated classics (chanterelle and sweet corn succotash, Ovaltine ice cream sundae), flavor-forward new recipes (blackberry and green bean salad, razor clams Rockefeller, bacon butterscotch chip cookies), and tips for making store-bought staples like pie crusts, ranch dressing, ketchup and hot fudge by hand to provide a big payoff on the plate.