NAKED IN DANGEROUS PLACES:  The Chronicles of a Hungry, Scared, Lost, Homesick, but Otherwise Perfect Happy Traveler (Three Rivers)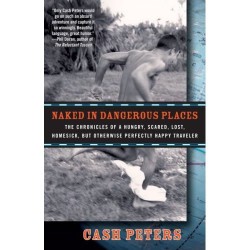 Cash Peters struck television gold.  Finally, after years as a struggling radio host, he was given his own reality-adventure show on a big-time travel network.  The premise was simple:  "Let's dump this guy in an unfamiliar culture in a faraway land with no money and no place to stay and leave him to fall back on his own resources."  Unfortunately, there was one major problem:  Cash had no resources to fall back on!  He was afraid of nearly everything and horribly allergic to the rest.  In NAKED IN DANGEROUS PLACES, he recounts with wit and honesty the year he spent making his travel show.  From Kenya to Cambodia, Morocco to Dubai, he visited fascinating cultures, ate with them, drank with them, even slept in cow-dung huts with them, and proved the old say: "What doesn't kill you makes you stronger."  Though, on balance, killing you is more likely.
Cash Peters is a commentator for public radio's Marketplace and a TV critic for the BBC.  He is also the author of Gullible's Travels.
Praise for NAKED IN DANGEROUS PLACES
"A riotous and engaging read." —Library Journal

"Illustrated by one hilarious descent into madness after another."  —Kirkus Reviews

"Only Cash Peters would go on such an absurd adventure and capture it so winningly. Beautiful language, great humor." —Phil Doran, author of The Reluctant Tuscan

"Cash Peters is our generation's Alistair Cooke – a travel writer who sees things none of us would see ourselves if we were there. Of course, sometimes you wish he'd just kept his eyes shut."  —Kitty Felde, KPCC Radio
"In one epic, horrifying, funny lurch across the planet, Peters manages to utterly trash the well-meaning efforts of generations of sensitive, sincere travelers. Naked in Dangerous Places is a running riot." —Tony Cohan, author of On Mexican Time and Mexican Days

"Peters is a national treasure, with a wicked sense of humor that guarantees he'll never be asked to host a television show again. The world of travel literature, however, is all the richer for having him." —Rudy Maxa, host, "Rudy Maxa's World," PBS
"Like most travelers, but too few travel writers, Cash Peters understands that nightmares are twice as entertaining as dreams—especially when they come true. Peters's iconoclastic charm unaccountably fails to seduce South Seas cannibals and Hollywood producers, but proves a winner in this sharp-witted recap of two years in the company of such exotic and dangerous creatures. Someone should make a TV show out of it." —Chuck Thompson, author of Smile When You're Lying