PLUS ONE (Prospect Park Books) and REJUVENILE: Kickball, Cartoons, Cupcakes and the Reinvention of the American Grown Up (Crown)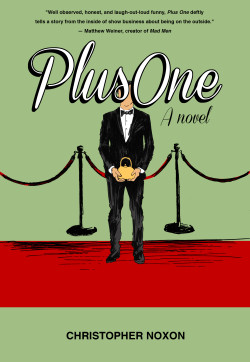 Alex Sherman-Zicklin is a midlevel marketing executive whose wife Figgy's fourteenth attempt at a TV pilot becomes a huge Emmy-winning hit.  Overnight she's sucked into a mad show-business vortex, and Alex quits his job to become the family's domestic first responder. He falls in with a posse of plus ones, men who are married to women whose recognition, income, and fame far eclipse their own. This wickedly honest comedy follows Alex as he struggles to regain his mojo while remaining a loving and responsible husband and father. PLUS ONE is a hilarious story about modern family life and the fast-changing roles of parents and partners, told from the perspective of one wonderfully quirky family that hits the Hollywood jackpot.
Praise for PLUS ONE
"PLUS ONE is a funny, sharply observed novel about a guy with a first-world problem – a wife who's a hugely successful TV writer and producer-and the identity crisis that goes along with it. Christopher Noxon has reimagined the Hollywood novel from a whole new perspective."  – Tom Perotta, author of The Leftovers, The Abstinence Teacher, Little Children, and Election
"PLUS ONE is a smart and funny novel about Hollywood, but where it truly shines is in Noxon's stunning and painfully accurate depiction of the complex rhythms and growing pains of a marriage." – Jonathan Tropper, author of This is Where I Leave You and One Last Thing Before I Go
"A page-turning peek into the world of TV and families and money – this is Hollywood L.A. as seen from a newcomer's ambivalent perspective. I found it both fun and fascinating and unsettling to delve into this world, built convincingly by Noxon's gift with scenes and voices." – Aimee Bender, author of The Color Master and The Particular Sadness of Lemon Cake
"Juicy, fun, and the ultimate 'inside-baseball' look at Hollywood, PLUS ONE is rich with pitch-perfect details and social satire that sings. Christopher Noxon takes aim at showbiz insiders and outliers in this very funny novel and hits the target. You'll laugh, you'll cringe, and you'll never look at a man on the red carpet holding a Judith Leiber bag in the same way. Read it by the cabaña… if you can afford one." – Lian Dolan, author of Elizabeth the First Wife and Helen of Pasadena
"Hilarious and whip-smart, with a big beating heart at its center. I love this book, and so will you."  – Dana Reinhardt, author of We Are the Goldens
Christopher Noxon is a journalist who writes for such publications as The New Yorker, Details, and The New York Times Magazine; his first book, REJUVENILE: Kickball, Cartoons, Cupcakes and the Reinvention of the American Grown Up (Crown), earned him interviews on the Colbert Report and the Today Show.  He is the father of three and the plus one to a top TV writer/producer.  PLUS ONE is his first novel.
Praise for REJUVENILE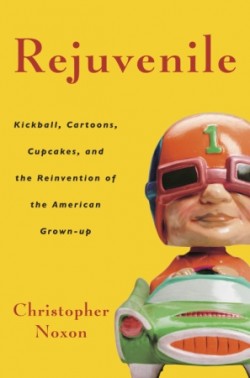 "[A] provocative analysis of a youth-celebrating consumer culture."  —BusinessWeek Magazine
"I read REJUVENILE excitedly…. An eye-opener." —Ira Glass, host of public radio's This American Life
"Geezers wearing blue jeans and watching cartoons and playing videogames is not precisely what Bob Dylan had in mind ('May you stay forever young') back in the countercultural day. But as Christopher Noxon smartly and definitively explains, never-ending youthfulness—that is, the mass refusal to swear off fun and comfort for the sake of grown-up propriety—is the enduring legacy of the Woodstock generation."  —Kurt Andersen, host of public radio's Studio 360 and author of Turn of the Century
"REJUVENILE is better than any book out there about play. It sweeps together stories of real people being true to their core selves. This is not a book for escapists; it is a book for curious open explorers looking to lead more effective, flexible, adaptive, vital, and still responsible lives. It challenges stereotypes and gives permission to be yourself."  —Stuart L. Brown, M.D., founder and president, the Institute for Play
"Any book that inspires me to rediscover Four Square and Duck Duck Goose is A-OK with me. REJUVENILE made me want to play and it made me think—a stellar combination. Thank you, Christopher, for giving us a concept we actually need: a new, liberating redefinition of adulthood, where you can be a responsible grown-up and still maintain a sense of wonder."  —Sasha Cagen, author of Quirkyalone: A Manifesto for Uncompromising Romantics