HAND-CRAFTED CANDY BARS (co-author: Susan Heeger; Chronicle Books)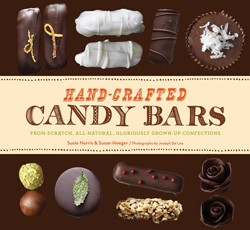 Now you can rediscover the favorite confectionery flavors of your youth in your own kitchen–peanut butter and chocolate; nougat and nuts; mint and dark chocolate; almond and coconut–in cleverly re-imagined recipes. Chocolate Butter-Toffee Snaps, the perfect marriage of butter and sugar; Over the Moon, full of malted nougat goodness; and crunchy Cocoa-Nib Caramel Cookie Sticks are delicious homages to the classics.  And the authors go a step further by adding modern ingredients like green tea, chipotle pepper, sea salt, or tarragon, resulting in totally new candy sensations. Be happy.  Eat candy!

CHOCOLATE BLISS:  Sensuous Recipes, Spa Treatments, and Other Divine Indulgences (Celestial Arts)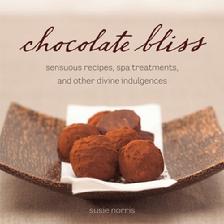 Susie Norris is an author, artisan chocolatier, pastry chef, culinary school instructor and TV producer.  Her award-winning chocolate business, Happy Chocolates, has been featured on Food Network and in More magazine.  She most recently taught baking and pastry arts at Le Cordon Bleu College of of Culinary Arts and Sur La Table in Los Angeles. Her favorite commercial candy bars are Snickers and Twix.
Prior to her work in the food business, Susie was Vice President of Series Television at Disney and held similar positions at Nickelodeon, CBS, NBC and Turner Network Television.