THE BLESSING OF A SKINNED KNEE: Using Timeless Teachings to Raise Self-Reliant Children (Scribner)
THE BLESSING OF A B MINUS: Using Jewish Teachings to Raise Resilient Teenagers (Scribner)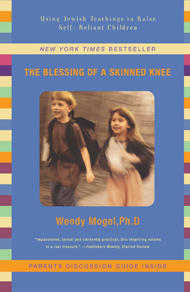 Dr. Wendy Mogel is an internationally known clinical psychologist, author and public speaker. A graduate of Middlebury College, Dr. Mogel completed an internship and post-doctoral fellowship in the Department of Psychiatry at Cedars-Sinai Medical Center in Los Angeles. She has been a keynote speaker at the annual meetings of the National Association of Independent Schools, the National Association of Principals of Schools for Girls, the Educational Records Bureau, the National Association of Episcopal Schools, the American Montessori Society, and the American Camp Association.
Dr. Mogel serves on the scientific advisory board of Challenge Success, a program of the Stanford University School of Education, and the boards of the Center for Early Education and the Council for Spiritual and Ethical Education, a century old inter-faith organization serving private schools. She contributes articles to many types of publications including Independent School Magazine, the Jewish Telegraphic Agency and Camping Magazine.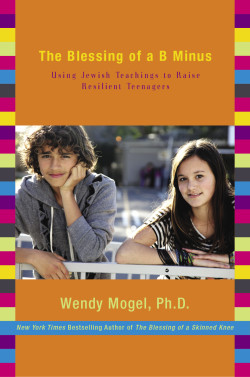 Dr. Mogel's first book, The Blessing of a Skinned Knee, was published in 2001 and became a New York Times bestseller.  In 2006, The New York Times Sunday Magazine published a profile of Dr. Mogel and her work. The Blessing of a B Minus, Dr. Mogel's book about what parents can learn from teenagers, was published in 2010 and became a Los Angeles Times bestseller.
PRAISE FOR THE BLESSING OF A SKINNED KNEE
"The larger lesson is that children need to learn to fend for themselves…for the professionals who work with children—principals, teachers, camp directors, school psychologists—that lesson is worth the price of Mogel's paperback."  —The New York Times Magazine
"Writing with great warmth and humor, [Mogel] gives examples from her own family life and those whom she has counseled. Highly recommended for all parenting collections."  —Library Journal
"Dr. Mogel's book brings to light three of Judaism's most important lessons, 'moderation, celebrations, and sanctification,' and lets us apply them to our lives with amazing results." —Rhode Island Jewish Herald
"A remarkable asset for school leaders."  —Southwestern Association for Episcopal Schools Monthly
"A treasure trove of practical and useful information for parents and educators. Dr. Mogel's personal and caring touch comes through clearly as she presents practical and useful suggestions for parents."  —Jacqueline I. Haines, past director of the Gesell Institute for Human Development
"For anyone who has a child, was a child, or cares about children. Wendy Mogel teaches you how to raise a child to be a good person and not just raise a child to feel good. Great for the Jewish parent, great for the Presbyterian parent, the Buddhist, and even the skeptic."  —Carrie Fisher, Author, Actress (Star Wars Trilogy)
"Wendy Mogel presents us with one of the finest and most challenging books on parenting to emerge in recent years. In a firm and loving voice, she reminds parents and all those who care about children of the sanctity of parenting. Her blending of Judaism and parenting wisdom jumps off every page. I love her work—both as a rabbi and as a father."  —Rabbi Jeffrey K. Salkin, author of Putting God on the Guest List
"While reading The Blessing of a Skinned Knee, I felt that I was being tutored by an elder in the ways of the world. As a Christian minister, I have found that our faiths have that relationship to each other. As a parent, I was encouraged in the very ways that our generation of parents is baffled. You have hit on all of the issues that are difficult: materialism, permissiveness, guardianship against the destruction of humane values, and preservation of sacred time and space in a harried, dislocated world." —Reverend Robert Thompson, school minister of the Phillips Exeter Academy
"Prophets call on the wisdom of a tradition, its revealed truth, to say out loud what we know but are afraid to utter.  Wendy Mogel has issued a prophetic call to good parenting, one laced with psychological insight, practicality, and humor.  Her words are themselves a gift of faith and a blessing."  –Peter Cobb, executive director of the Council for Spiritual and Ethical Education
"Bold and refreshing."  —The Jewish Journal of Greater Los Angeles
"Dr. Wendy Mogel is one of this generation's most sought-after and passionate parenting experts." —West Hartford, Connecticut Education Bulletin Congregation Beth Israel
PRAISE FOR THE BLESSING OF A B MINUS
"Intermingling wisdom and guidelines from Judaism and adolescent psychology, Mogel compares the teen years to the journey from Egypt to the Promised Land.  As kids wander in the 'desert' of adolescence, she advises parents to offer counsel and guidance, demonstrate empathy without entanglement, and resist the urge to intervene or rescue…Mogel's compassion and authenticity will ring true with parents of all faiths facing the tumultuous teen years."  —Publishers Weekly
"Wise, witty and well-written, this book is a treasury of common sense for anyone dealing with adolescents."  –Rabbi Harold Kushner, author of When Bad Things Happen to Good People
"Wendy Mogel's book is filled with reassurance, much of it summed up into spoonful-sized statements…A blessing indeed."  —Lisa Belkin,  New York Times
"We should all give thanks for The Blessing of a B Minus. Like Wendy Mogel herself, this book is funny and full of common sense. It will give parents something they need: perspective on the complicated and often maddening business of raising adolescents."  –Michael Thompson, Ph.D., author of It's a Boy: Your Son's Development from Birth to Eighteen
"Wendy Mogel's signature humor, humility and wisdom are back in full force in The Blessing of a B Minus, which will bring much-needed sanity to parents of teens. Hers is the voice that every parent dreams of finding while wading through the confusion of childrearing today: calm, knowing, empathetic and informed both by professional knowledge and personal experience. Her insights are infused with a widely appealing kind of faith that will strike a universal chord in parents seeking both a moral and practical compass. This is a book that will be re-read over and over again."  —Judith Warner, author of Perfect Madness and We've Got Issues
"In this remarkably frank, helpful book Wendy Mogel offers practical advice and comforting perspective on all the issues, large and small, that families of all faiths and backgrounds confront as their children move through adolescence.   Here is a voice of humor, reason, and compassionate sanity in a culture driven by hyper-competitiveness, hyper-vigilance, and hyper-activity. The Blessing of a B Minus inspires and consoles.  Most importantly, this very readable book gives us the tools we need to become more conscious, confident parents. This is not Jewish wisdom, it is human wisdom, and I for one am a most grateful recipient."  –Katrina Kenison, author of The Gift of an Ordinary Day
"The Blessing of a B Minus is a must-read for parents of any religious stripe…[Mogel] writes with the experience of a mother who lived through her two daughters' teenage years and the authority of a clinical psychologist (Ph.D.) who has treated teens and their parents over decades of practice. The Blessing of a B Minus leaves readers counting their blessings that she managed to pack so much sage advice into one volume."  —San Diego Jewish Journal
"Wendy Mogel offers…powerful and funny… documentation of bad parenting and what to do about it. This book is a 'must read' for the helicopter parents."  –National Association of Independent Schools president Patrick Bassett
"Full of insight about how to raise resilient teenagers. Mogel offers a lot of common sense wisdom. You'll be reassured and reminded that while the teen years can be challenging, your children most likely will develop into confident, happy adults." ––Jewish Women Magazine
"The reassuring tone of Mogel's very sane book may be a life-saver to parents." —The Jewish Journal of Greater Los Angeles