CRACKERS AND DIPS: More Than 50 Handmade Snacks (Chronicle Books)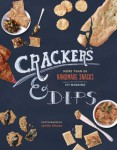 The same question comes to Ivy Manning's mind every time she sees rows of pricey crackers in stores: Why would anyone spend that kind of money when all the ingredients you need to make your own better-than-boxed crackers are in your pantry right now?  Homemade crackers are as easy to make as a batch of cookies, they are much tastier than mass-produced crackers, and they're great to give as a homemade gift.  Perhaps the reason more people aren't making their own crackers is that there has never been a book to show home bakers how–until now.
In her work as a professional cook, catering chef, and culinary instructor, Ivy has delighted clients with her homemade semolina cracker sheets, perfect garlic-rubbed crostini, animal crackers, and other crunchy treats.  Clients and students alike have been amazed by how much more delicious homemade crackers are than the mass-produced, boxed kind, and they're especially thrilled when they learn how easy it is to bake crackers at home.
The recipes and tips in CRACKERS AND DIPS are for bakers of all skill levels and tastes, with formulas for vegan, gluten-free, and whole-grain crisps. This adorable book is timed perfectly for the cracker-making trend and makes the ideal gift for the baker or entertainer who takes pride in making everything from scratch.
"If you've never been a fan of crackers, this book will change your mind. Full of crisp, mouth-watering treats, salty and sweet, some with whole-grain flours–you will want to try them all." —Maria Speck, author of Ancient Grains for Modern Meals, a New York Times notable book and winner of the Julia Child Cookbook Award