GUIDING YOUR CHILD THROUGH GRIEF (Bantam)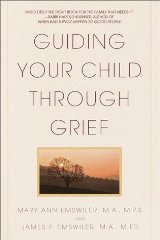 Jim Emswiler holds master's degrees in education and counseling. He was the executive director of the New England Center for Loss and Transition and the co-founder of The Cove, a support program for grieving children and their families. Jim's first wife, Mary, died at the age of 39, leaving him with three young children.
Mary Ann Emswiler is a licensed mental health counselor with master's degrees in clinical psychology and pastoral studies. She is a co-founder of The Cove and managed its growth to five sites in Connecticut. She organized the National Symposium on Children's Grief Support, pulling together more than 100 professionals nationwide who work in children's grief. Mary Ann was also a major catalyst in forming the National Alliance for Grieving Children, a resource for parents of grieving children throughout the country.
PRAISE FOR GUIDING YOUR CHILD THROUGH GRIEF
"A monumental contribution to the countless children who can be helped to cope with the loss of a loved one instead of left unassisted because the adults around them lack an awareness of their needs."  —Therese Rando, Ph.D., author of How to Go on Living When Someone You Love Dies
"An excellent resource to help you bring forth what is within your child, your self and your family so that it does not destroy any of you.  The tears of unexpressed grief extinguish life's bright candle.  Read on and light the dark tunnel so that others may follow."  —Bernie Siegel, M.D., author of Love, Medicine & Miracles and Prescriptions for Living
"I wish Guiding Your Child Through Grief could be in the hands of every parent with a child or adolescent grieving a death."  — Donna Schuurman, executive director, The Dougy Center for Grieving Children, Portland, Oregon