OPEN LINE (Coffee House Press)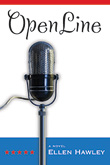 In Ellen Hawley's Open Line, a bored radio talk show host claims that the Vietnam War was a hoax. Soon callers are supplying her with details that prove her right. Her world and American politics will never be the same.
Hawley has worked as an editor, a teacher of writing, the host of a call-in radio show, a cab driver, a janitor, an assembler, a file clerk, and for four fun-filled hours a receptionist. She is the author of two novels, Open Line (Coffee House Press) and Trip Sheets (Milkweed Editions). Her short fiction and essays have been published in a variety of magazines and anthologies. She can be found at ellenhawley.com.
Praise for Open Line
"Open Line is the perfect choice for those looking for a satirical novel that doesn't take itself too seriously. . . . Hawley's characterizations are flawless, and her dialogue is lively and realistic. Open Line may be a sad commentary on the political/media complex, but it makes for an entertaining reading experience." —Nancy Pearl, KUOW.org
"The book is great comedy, but it also is challenging and sobering, leaving us to wonder just how far reality can be bent out of shape." —Minneapolis Star Tribune
"Halfway through Open Line, Ellen Hawley's engaging new political satire, I was almost convinced that the Vietnam War never happened." —St. Paul Pioneer Press
"Hawley . . . shrewdly skewers the media and popular culture as she catalogs Annette's journey from no-name to fame."  —Booklist