THE LAWYER'S CAREER CHANGE HANDBOOK: More Than 300 Things You Can Do With a Law Degree (HarperCollins)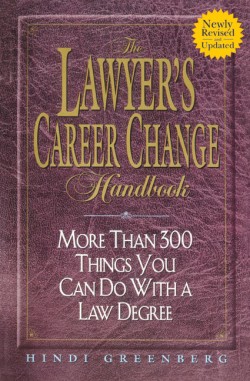 Hindi Greenberg graduated in the top ten percent of her class in 1974 from Hastings College of the Law in San Francisco, clerked for two courts, and was a business litigator in a major San Francisco law firm, a five-person firm, and in a corporation.  She quit full-time practice in 1984 and in 1985 started Lawyers in Transition to help attorneys across the country make satisfying career choices in and outside of law and to assist law firms and corporations in retaining the best attorneys.  She has also done outplacement work for a number of well-known law firms.
Hindi has published numerous articles in legal and business publications and presented numerous programs for the American Bar Association, state bar and specialty associations, and law schools nationwide.  She has been interviewed by Time, Business Week, U.S. News and World Report, Forbes, USAToday, the New York Times, California Lawyer Magazine, as well as CNN, NBC, ABC, and PBS television.  Her book THE LAWYER'S CAREER CHANGE HANDBOOK (HarperCollins) is now in its second edition.