ESPERANZA'S BOX OF SAINTS (Scribner) and GONZALEZ & DAUGHTER TRUCKING CO. (Crown)
Born in Mexico City and currently a U.S. resident, María Amparo Escandón is a best-selling bilingual novelist, short story writer, screenwriter, and film producer whose innovative style places her among the top contemporary Latin American female writers. Named a writer to watch by Newsweek, her award-winning work has been translated into more than 21 languages and is currently read in more than 85 countries.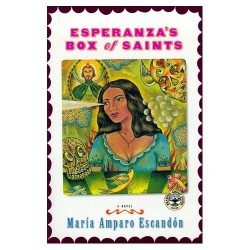 Escandón wrote her first novel, Esperanza's Box of Saints, and its Spanish version Santitos, in 1999. A #1 Los Angeles Times bestseller, the novel addresses the universal fear of losing a child and a woman's search for identity.  John Sayles produced the film Santitos, based on her novel, for which she wrote the screenplay. To date, the film has received awards in 14 film festivals worldwide.
Her second novel, González & Daughter Trucking Co., and its Spanish version, Transportes González e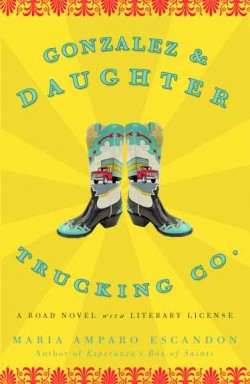 Hija, were published in 2005. Set in a Mexican prison and along highways of the U.S. Southwest, it deals with women's relationships, corruption and forgiveness within the context of a hybrid border culture. The film is currently in active development at Blue Engine Entertainment and at Escandón's production company, The Other Truth Productions.
Praise for ESPERANZA'S BOX OF SAINTS
"Esperanza's Box of Saints fills our souls with colors and flavors."  —Laura Esquivel, Author of Like Water for Chocolate
"Esperanza's road trip of self-discovery will no doubt evoke many smiles… An enchanting read that soon gets under your skin. Read the book… it's real magic." —Wall Street Journal
"Exuberant!" —Los Angeles Times
"A funny, romantic road trip that explores the seedy border culture of Mexico and Southern California." —Newsweek
"Funny, offbeat and bold… definitely a new landmark in Latin American literature." — Jorge Ramos, author of The Other Face of America and Univision anchor
"A journey that explores the nature of sin and absolution, the pain of loss and the resurrection of desire." —John Sayles
"A highly original, beautifully written, and heartwarming tale." —Tony Hillerman
"A charming and compassionate fable." —Carolyn See
Praise for GONZALEZ & DAUGHTER TRUCKING CO.
"Entirely enjoyable… The novel has abundant black humor that comes across as a sly wink from the author… Escandón has created such a sympathetic and attractive personality in Libertad that I found myself rooting for [her]."—  Los Angeles Times
"This highly readable novel is a paean both to storytelling and to freedom." —Booklist
"Exuberantly told, passionately felt, and at times knee-knockingly funny, Gonzalez & Daughter Trucking Co. is a heart-rending look at a community of women, with a cast of characters as indelible as the marks scratched into a prison wall." —Boston Globe
"In this engaging twist on the 1,001 Arabian nights, Libertad González enthralls her fellow inmates in a Mexican women's prison by telling tales as a weekly book group…Libertad's stories keep her listeners—and us—so engrossed that the notion of freedom seems limited only by the imagination." —Miami Herald
"Libertad González mirrors her creator, María Amparo Escandón, in that both are prodigious storytellers…This is a warm and ingenious novel that delights from start to finish." —Alexander Payne, director and screenwriter of "Sideways"
"An ingenious retelling of Scheherazade's odyssey–but on wheels and with sabor mexicano." —Ilan Stavans, author of Spanglish, The Making of a New American Language
"Escandón has delivered us yet another work of art.  A whimsical, humorous, and passionate mystery that explores the love and hurt of a father and daughter on the run" —Jorge Ramos, author of The Other Face of America and Univision anchor
"1,001 nights in a Mexicali women's prison…González & Daughter Trucking Co. is about our compulsion to make events into stories and stories into bridges of understanding." — John Sayles, author and filmmaker of "Lone Star"