THE OBSERVATION DECK: A Tool Kit for Writers (Chronicle Gift)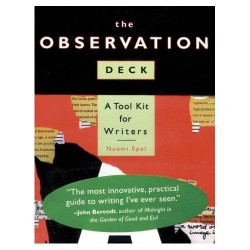 This clever book-and-card set relies on startlingly useful writing prompts as well as tested advice from successful authors to help you through every stage of the creative process. You can work your way through the deck systematically or shuffle after each use and allow random chance to determine your next move. Even if you pull the same card many times, its impact will always be different.
In addition to THE OBSERVATION DECK, Naomi Epel is the author of Writers Dreaming, an in-depth look at 27 major contemporary authors. She gives "Writing from Your Dreams" talks and workshops and is a frequent guest lecturer at Stanford University. She has also appeared on NPR's All Things Considered , E! TV , and The Tom Snyder Show.