THE MODERN JEWISH GIRL'S GUIDE TO GUILT (Dutton hardcover, Plume paperback)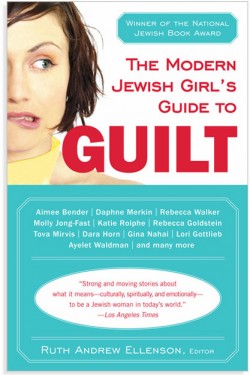 Ruth Andrew Ellenson received the National Jewish Book Award for her anthology THE MODERN JEWISH GIRL'S GUIDE TO GUILT, which made several bestseller lists, including the Los Angeles Times, and was selected by Hadassah as a featured book club selection. Her work as a journalist has been featured in the New York Times, Los Angeles Times, People magazine, the Forward and many other publications. The daughter of a rabbi and a Daughter of the American Revolution, Ellenson was born in Jerusalem and raised in New York and Los Angeles. She received her MFA from Columbia University.
Ellenson has lectured internationally on Jewish women's identity and is represented by the Harry Walker Agency for speaking engagements.
Praise for THE MODERN JEWISH GIRL'S GUIDE TO GUILT
"Strong and moving stories about what it means –culturally, spiritually and emotionally to be a Jewish woman in today's world." –Los Angeles Times
"Enlightening…. Compelling…." –National Public Radio
"A real treat… Extremely refreshing… Shatters the usual sterotypes…. These women are so brave in admitting their true feelings and telling their personal stories that, after reading these essays, you might feel brave too." –Toronto Globe and Mail
"Reading this book is like taking a trip to Baskin-Robbins, only instead of flavors of delicious ice cream, you get delicious flavors of guilt, each irresistible in its own funny, weird, touching, infuriating, but inevitably engaging way." –Jewish Book World
"Lively and intelligent." –Seattle Times
"Wide ranging and thought provoking…funny and fresh." –Publisher's Weekly
"All of the stories… whether humorous, intense or both, grapple with complex themes like how we live up to other's expectations and how our cultural heritages shapes who we are." –Jerusalem Post
"An honest discussion about issues Jewish women face today." –Dallas Morning News