ITALIAN RUSTIC: How to Bring Tuscan Charm into Your Home (Artisan)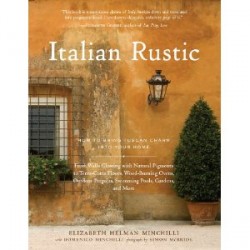 Author Elizabeth Helman Minchilli, an American design writer based in Rome and Tuscany, received dozens of questions from readers after publishing her last book, Artisan's Restoring a Home in Italy. The queries went beyond the usual searches for fabric and couches. "People were hungry to know how terra-cotta tiles were laid, or how fireplaces were built," she says. Italian Rustic, researched with the help of her Italian architect husband Domenico Minchilli, is the user-friendly result: a book that explains, in clear text accompanied by photographs and drawings, how to lay a tile floor a la Italiana, or add a Tuscan-style pergola to any garden.
With more than 300 stunning photographs shot on location in Tuscany and Umbria by Simon McBride, the book contains profiles of local artisans, engaging text on how the farmhouse style evolved, and targeted advice on how Americans can find Italian-style building materials and craftsmen close to home. This essential sourcebook will appeal to anyone building an addition or an entire house from scratch, or for homeowners who want to add just a touch of Italian style to their houses.