I KNOW I'M IN THERE SOMEWHERE: A Woman's Guide to Finding Her Inner Voice and Living a Life of Authenticity (Gotham)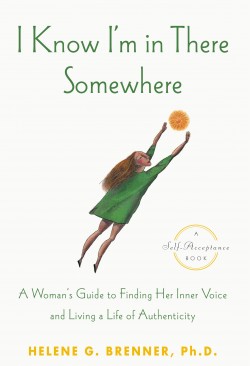 Dr. Helene Brenner has devoted her career to understanding and helping women meet the unique challenges facing women today. In I KNOW I'M IN THERE SOMEWHERE, she distills 20 years of therapeutic wisdom to show women how to turn away from the "outside voices"  that cause them to give themselves up and tear themselves down, and instead align themselves with their wisest and deepest self to create the life they desire.
Dr. Brenner has appeared in Self, Ladies Home Journal, Parents, Body and Soul and Fitness magazines, as well as on the Montel Williams Show and numerous regional television and radio programs. She has presented workshops nationally and internationally, including at the Omega Institute, the Learning Annex in New York and the bi-annual Sacred Circles conference held at the Washington National Cathedral. In addition to her busy private practice in suburban Maryland, she reaches a large audience of women through her workshops, telegroups, and inner-voice coaching by phone.