THE GOOD FOOD REVOLUTION (Gotham Books)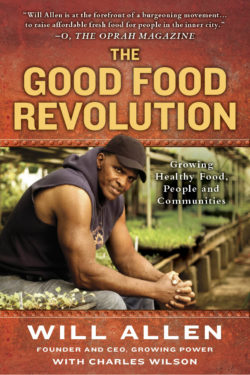 After a career as a professional basketball player and corporate executive for Kentucky Fried Chicken and Proctor & Gamble, Will Allen, the son of a sharecropper, returned to his farming roots with a vision that earned him a MacArthur "genius grant." Recognizing that America's inner cities had become "food deserts" offering only fast food and processed food, Allen pioneered ways to farm intensively in small spaces and began teaching urban residents of all colors and ages how to grow food in empty and abandoned lots. On two acres in Milwaukee next to the city's largest public housing project, Allen and forty employees now grow enough fresh food to sustain 10,000 people. His work has spread from empty plots in Milwaukee and Chicago to the devastated Ninth Ward of New Orleans and an Indian reservation on the Great Plains. Allen's efforts are transforming lives and communities, providing hope and jobs in particular to the young. Readers of Michael Pollan, Alice Waters, Barbara Kingsolver, Eric Schlosser and Van Jones will be inspired by Allen's personal journey and his vision of how the nation's poorest are taking part in a worldwide sustainable food movement.
Will Allen is the founder and CEO of Growing Power, the leading urban agricultural project in the U.S.  A MacArthur Fellow, he was named in April 2010 by Time magazine as one of the "Time 100," a list of the world's most influential people.  He has also been included among Ebony magazine's "Power 150" and is one of the first recipients of the Growing Green Award from the Natural Resources Defense Council as well as a 2005 Leadership for a Changing World Award from the Ford Foundation.  In July, 2009, Mr. Allen was the subject of a lengthy, admiring profile in The New York Times Magazine by Bottlemania and Garbage Land author Elizabeth Royte.
Praise for THE GOOD FOOD REVOLUTION
"From the plots of his Milwaukee urban farm to low-income communities across America, Will Allen has shown us a new type of heroism.  Through The Good Food Revolution, Allen recounts his effort to reclaim his family's heritage and, in doing so, confront lingering disparities in racial and economic justice.  As the champion of a new and promising movement, Allen is skillfully leading Americans to face one of our greatest domestic issues – our health." – Former President Bill Clinton
"Will Allen's remarkable story, told with eloquence and compassion, conveys the universal value of social justice and real food." – Alice Waters
"Far more than a book about food, The Good Food Revolution captivates your heart and mind with the sheer passion of compelling and righteous innovation. Wow!" – Joel Salatin, Polyface Farm
"Will Allen is a hero and an inspiration to urban farmers everywhere.  Now, with The Good Food Revolution, we learn  how Allen rediscovered the power of agriculture, and in doing so transformed a city, its community, and eventually the world – with the help of millions of red wiggler worms.  Told with grace and utter honesty, I found myself cheering for Allen and his organization, Growing Power." – Novella Carpenter, author of Farm City and The Essential Urban Farmer