I SEE RUDE PEOPLE: One Woman's Battle to Beat Some Manners into Impolite Society (McGraw-Hill)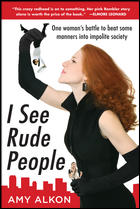 Amy Alkon is an award-winning syndicated advice columnist whose column "The Advice Goddess" runs in about 100 newspapers.
Alkon's career in advice-giving started in 1988 with a prank when she and two friends set up folding chairs, a makeshift table, and a sign that said "Free Advice From A Panel Of Experts" on a Soho street corner. Their intention was simply to make passersby laugh. But it was New York, the sign said "Free," and advice-seekers lined up around the block.
Feeling a responsibility to speak from more than her gut, Alkon began studying logic, philosophy, psychology, and the work of the late Albert Ellis, one of the founders of cognitive behavioral therapy, who became a mentor of sorts. Alkon proceeded to dive into anthropology and evolutionary psychology, reading the same journals and sending herself to the same annual conferences as top researchers in the fields. She sees it as her mission to digest complex, jargon-filled scientific research and to translate it into novel but pragmatic solutions to the ordinary person's love, dating, sex, and relationship problems.
In I SEE RUDE PEOPLE, Alkon turns to anthropological research to figure out why people are rude and what we all can do to bring back civility. In reviewing I SEE RUDE PEOPLE for the journal Evolutionary Psychology and for Psychology Today, London School of Economics' Dr. Satoshi Kanazawa writes:
"I See Rude People is the funniest book I've read since Dave Barry's Big Trouble, which coincidentally is also endorsed by Elmore Leonard.  Alkon is simply hilarious beyond words.  The book also serves a very important purpose of reaching civilian readers who would never read scientific papers and books on evolutionary psychology (as Alkon has) and spreading the important lessons of evolutionary psychology that apply to their everyday life."
Alkon has won numerous awards for her work, including first place in the Los Angeles Press Club's Southern California Journalism Awards. She has been featured in the New York Times, Los Angeles Times, Wall Street Journal, Glamour, and Psychology Today and has appeared on "Good Morning America," "The Today Show," NPR, CNN, MTV, "Politically Incorrect," and "Nightline." She blogs daily at advicegoddess.com, can be found on Twitter at amyalkon, and lives in California.